by Alex "sprackles" Sprackling

This weekend saw the fifth GWENT Open take place in Dandelion's very own tavern. With the Salt Mines now a thing of the past, it was time to build a new lineup for the next Challenger event later this summer. If that's not enough, half of this weekend's participants were new to the scene in some fashion, but with them came a few familiar faces. And the first game set the pace for the rest of the event. China's Hanachan — now partnered with LP — took on the Challenger #3 champion TailBot. This would be a matchup like no other; both players had clashed on multiple occasions and each had their own personal score to settle.
LpHanachan vs. TailBot
The matchup began with Hanachan banning Henselt and TailBot banning Jan Calveit — a ban he often makes to avoid facing the hard removal of Alchemy Nilfgaard. Way back in late 2017, TailBot first emerged on the competitive scene at a GWENT Slam event, where he earned the nickname "Metabot" for only bringing standard ladder decks. But times have changed and with a Challenger ring under his belt, the Polish player has evolved his game. He proved this with a quirky Scoia'tael list, seeing the return of the Dol Blathanna Sentry. But that wouldn't win it outright. The set came down to the fifth game, where TailBot's control heavy arsenal was able to shut down Hanachan's Greatsword list.
proNEO3001 vs. Nujwk
An old guard vs. new guard matchup followed, seeing Challenger #1 veteran proNEO3001 taking on newcomer Nujwk from Spain. And they lived up to their titles, with proNEO bringing the long-standing Geralt: Igni in his lineup while Nujwk had Rockslide accompanying him. Despite attending the first ever Challenger, proNEO is still looking for a victory and showcased his ability to adapt to different matchups. His opponent had brought a Calveit list heavily teched against Arachas Queen, a matchup proNEO had clearly practiced. Instead of playing greedy with his Nekkers, he boosted them in short bursts and was able to dodge Sweers to win the game. This win would set the pace for the rest of the set and the Challenger #1 veteran advanced on.
Huanshi7702 vs. AretuzaAndyWand
These next two new faces previously clashed in the qualifier for GWENT Slam #2, where AretuzaAndyWand was able to secure the victory over China's Huanshi7702. This would be their first appearance at an official CDPR event, and what a set it was! Germany's AndyWand, thanks to a whacky Hand-buff Scoia'tael list, proved an entertaining player to watch. There was no escaping his eccentric tech choices with Aguara, which served as a Muzzle on a stick to reclaim his stolen Vrihedd Dragoon. Aguara and AndyWand: name a more iconic duo — I'll wait...
Damorquis vs. Fanderman
Closing the day saw yet another new Polish competitor — Fanderman — clash with Damorquis, who was looking to redeem himself after an early exit from the last Open. The German player for Team Aretuza previously ran head first into the Orient Express of Hanachan's Greatswords. Unfortunately for him, this time he was unable to secure a win in the Henselt mirror and it was Fanderman who came victorious in the end. Muzzle was a dominant card in all four sets — unsurprising, for it has arguably defined the meta since its release pre-Midwinter — while Geralt: Igni proved to be a cursed inclusion. As long as there are core engine units under 8 strength, Muzzle will never not be viable.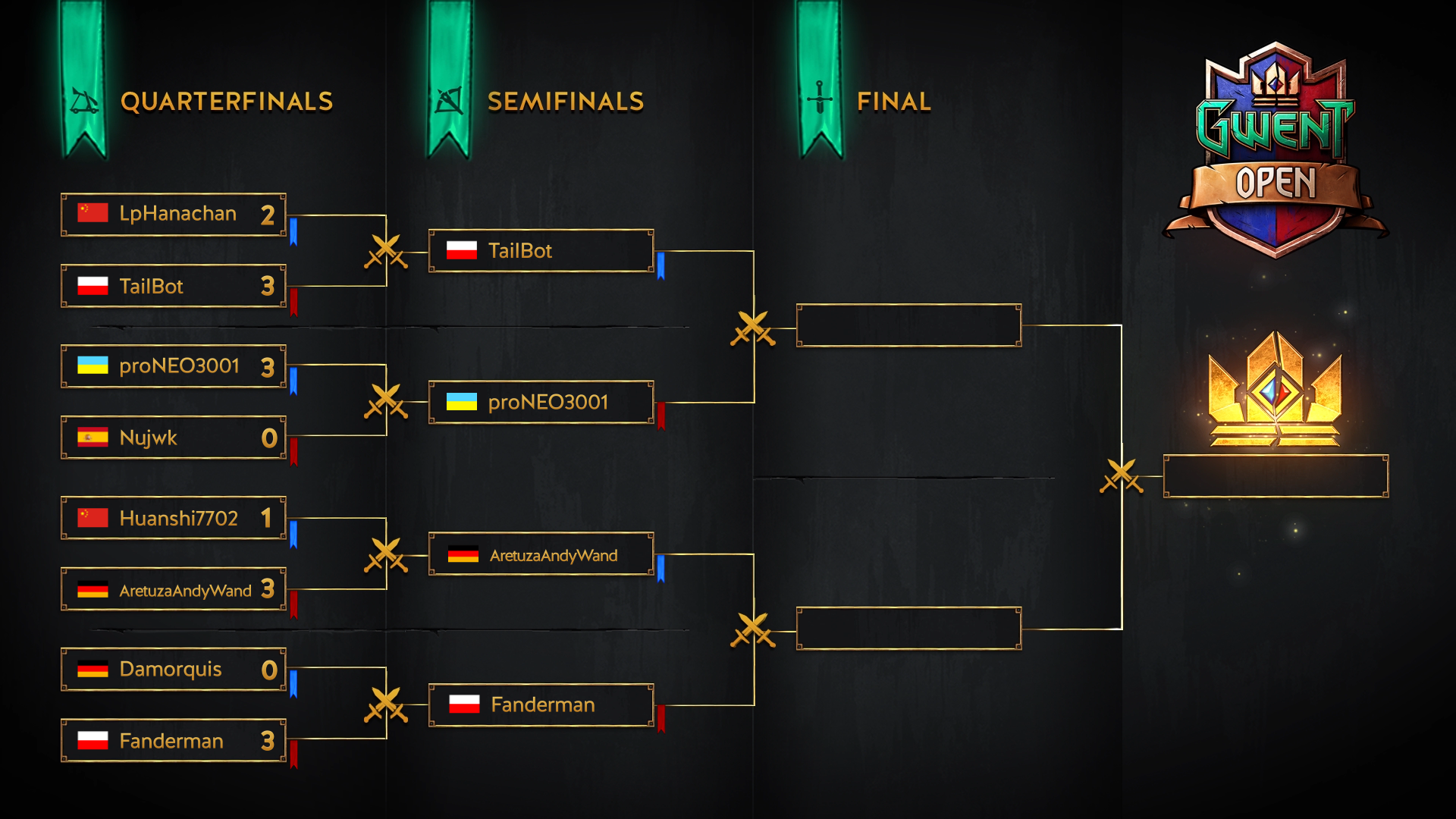 TailBot vs. proNEO3001
Day Two kicked off with TailBot – once again drastically favoured in the community Twitter poll – taking on proNEO. The Challenger champion enjoyed not only the home advantage but also better decks. His opponent was running Arachas Queen, an archetype his control-heavy lineup was teched against. In order for proNEO to advance, he would need to secure a win with his Consume Monsters. Despite opening with this deck, he was forced to hold onto his Nekkers until they were out of Muzzle range, weakening his win condition. Ultimately, TailBot won 3-1, presenting his fanbase with quite a sight to behold.
AretuzaAndyWand vs. Fanderman
Looking for revenge, AndyWand clashed with Fanderman, who had stomped over fellow Team Aretuza member Damorquis on Day One. Unfortunately, AndyWand misplayed his Henselt mirror, where he played his Ronvid in R3 to fall victim to Muzzle while also failing to secure an Igni target. But it was his hand-buff list that served a frosty dish of revenge, forcing Fanderman to go down two cards. Damorquis was avenged and AndyWand would advance to the final 3-1.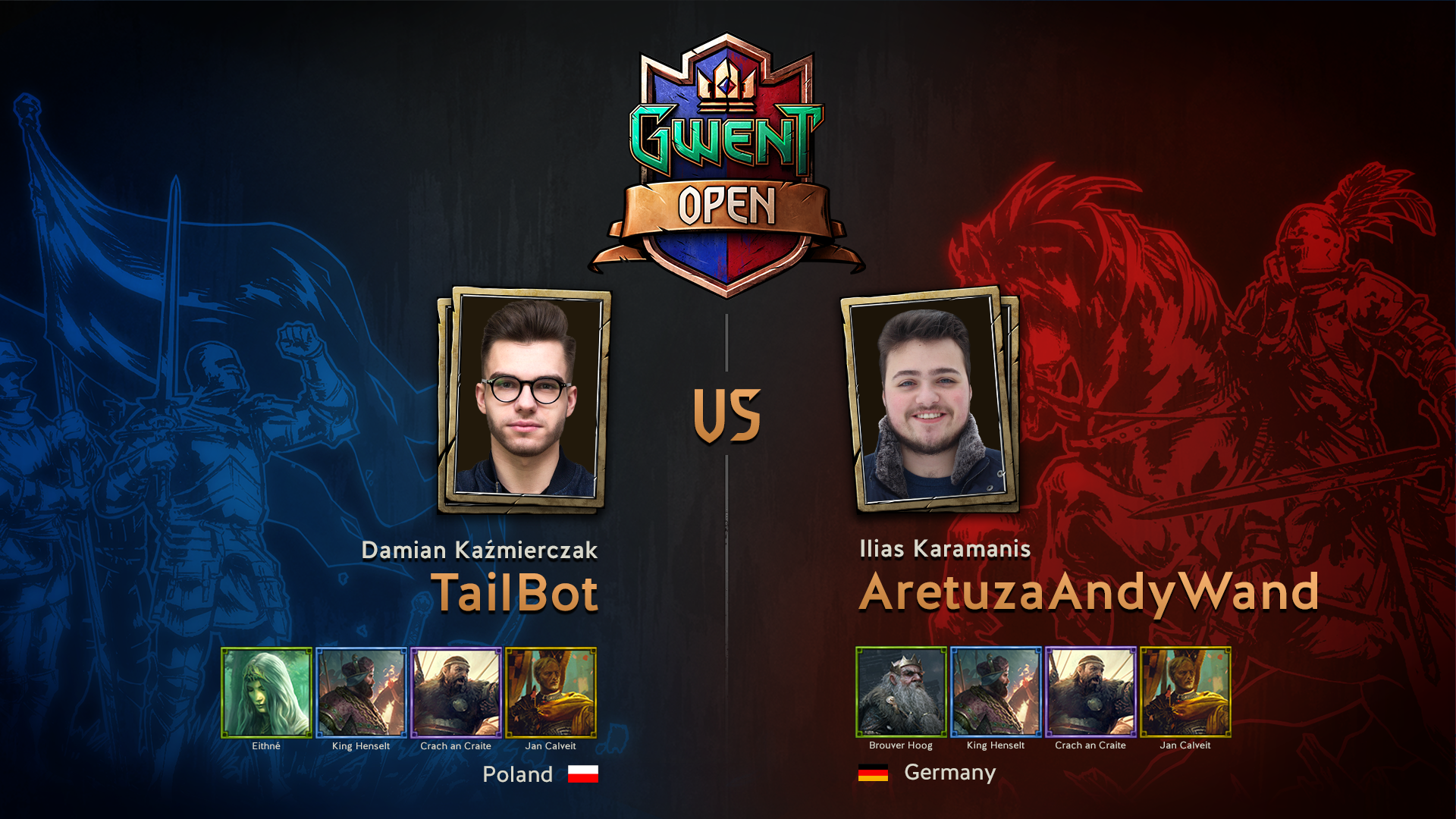 TailBot vs. AretuzaAndyWand
Following a showmatch between CDPR employees — which, sadly, I am unqualified to analyse as I lack the experience in playing Tier S cards such as Swallow, Wild Boar and Whispering Hillock — the final was underway. It was another day at the office for TailBot, who was already guaranteed a spot at the next Challenger, while AndyWand was looking to prove himself in his very first official event. Both players opted to ban Calveit. In light of TailBot's control-heavy arsenal, the Twitter poll instead favoured AndyWand and his unique lineup.
And it was the first game that defined the rest of the set. Utilising Seltkirk and a whole kingdom of crewmen — a Northern Realm, you could say — AndyWand was able to efficiently shut down TailBot's Greatsword strategy and secure the first win. This led to TailBot jumping straight onto Red Coin Henselt, which Andy was ready for with his removal-heavy Hand-buff list. Sadly for him, he fell victim to Aguara, buffing his Yaevin to 20 and denying him the opportunity to regain card advantage in R2.
That said, AndyWand is no newbie and held his own against TailBot, the set coming down to the fifth game. Eithné clashed with Crach An Craite in what would be a battle of Operators. The Team Aretuza player utilised Hym to create his own version of this long-lost neutral silver. He needed it to earn himself an additional Light Longship, which TailBot was focussing on shutting down. This next level play won AndyWand the game and the day. And using cards like Aguara in his line-up, he sure did it in style! We can't wait to see him at the next Challenger.