by Alex "sprackles" Sprackling
GWENT Open #5 is a wrap and proved to be one of the most diverse we've seen. Not only did it include a returning champion — some old veterans showed up, too! But it was the new faces who truly shined, and AndyWand in particular — a player that we first saw at GWENT Slam #2.
Day One kicked off with Challenger #3 victor TailBot taking on Hanachan in yet another grudge match. It feels like these two players are always clashing on the competitive GWENT scene and every one of their games is a close set. This one was no exception, with TailBot just about securing the victory to advance.
An old guard vs. new guard matchup followed, seeing Challenger #1 veteran proNEO3001 taking on newcomer Nujwk from Spain, who had brought a Calveit list heavily teched against Arachas Queen. ProNEO had prepared for this, however, and instead of playing greedy with his Nekkers, he boosted them in short bursts. This was the key to dodging Sweers and winning the game. This particular win set the pace for the rest of the set and the Challenger #1 veteran bagged the victory.
These next two new faces previously clashed in the qualifier for GWENT Slam #2. Germany's AndyWand, thanks to a whacky Hand-buff Scoia'tael list, proved an entertaining player to watch. There was no escaping his eccentric tech choices with Aguara, which served as a Muzzle on a stick to reclaim his stolen Vrihedd Dragoon. Using this tactic, he was able to defeat China's Huanshi7702.
Closing the day saw yet another new Polish competitor — Fanderman — clash with Damorquis, who was looking to redeem himself after an early exit from the last Open. The German player for Team Aretuza previously ran head first into the Orient Express of Hanachan's Greatswords. Unfortunately for him, this time he was unable to secure a win in the Henselt mirror and it was Fanderman who came victorious in the end.
Day Two kicked off with TailBot taking on proNEO. The Challenger champion enjoyed not only the home advantage but also stronger decks. His opponent was running Arachas Queen, an archetype his control heavy lineup was teched against. Ultimately, TailBot won 3-1, presenting his fanbase with quite a sight to behold.
AndyWand went on to clash with Fanderman, who had stomped over fellow Team Aretuza member Damorquis on Day One. It was his hand-buff list that would serve a cold dish of revenge, forcing Fanderman to go down two cards. AndyWand would advance to the final 3-1.
The final was another day at the office for TailBot, who was already guaranteed a spot at the next Challenger, while AndyWand was looking to prove himself in his very first official event. That said, AndyWand is no newbie and held his own against TailBot, the set coming down to the fifth game. The Team Aretuza player utilised Hym to create his own Operator. He needed it to gain an additional Light Longship, which TailBot was focussing on shutting down. This next level play won AndyWand the game and the day. And using cards like Aguara in his line-up, he sure did it in style! We can't wait to see him at the next Challenger.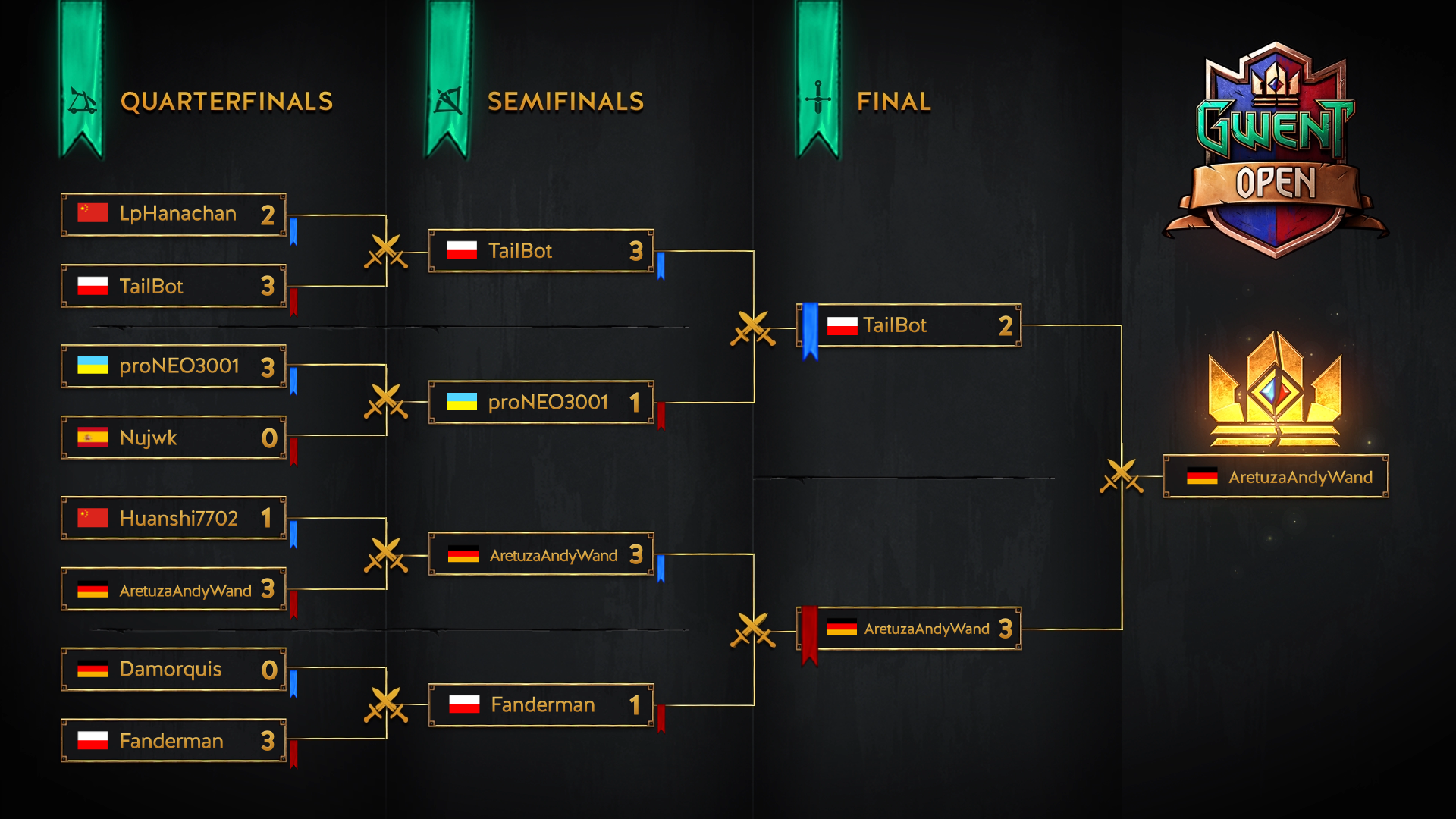 Here are the final standings for the tournament:
FINALISTS
Ilias "AretuzaAndyWand" Karamanis (Germany) — $9,800
Damian "TailBot" Kaźmierczak (Poland) — $5,050
SEMIFINALISTS
Jacek "Fanderman" Leja (Poland) — $2,750
Alexander "proNEO3001" Shpak (Ukraine) — $2,750
QUARTERFINALISTS
Zehua "LpHanachan" Zhao (China) — $1,400
Xiaoxiang "Huanshi7702" Zeng (China) — $1,250
Mikel "Nujwk" Besga Aristizabal (Spain) — $1,000
Daniel "Damorquis" Morkisch (Germany) — $1,000